Production also impacted by battery cells shortages
from our Product & Pricing Team

After recent warnings for a global shortages of semiconductor chips, car manufactures will be tested even stronger. In the last week it became clear on top of the challenges with semi-conductors, many brands are anticipating also shortages of battery cells.
Autonews Europe reports that the Volkswagen's biggest plant in Wolfsburg, Germany, is struggling to meet strong demand for the Golf model due to shortages of battery cells for hybrid versions and semiconductor components. The VW hybrid variants are particularly popular among customers and account for 40 percent of Golf sales in Europe, even 60 percent in Germany.
Production disruption expected
In December VW was one of the first manufacturers that reported that a shortage of semiconductor components could disrupt production. The issue has since spread across the entire industry, affecting manufacturers from General Motors to Renault to Daimler. Although it looks like the battery cells shortages are not a problem as acute as the unavailability of chips, it is something to taken serious present day.
Just yesterday the Ford Motor Co.'s top executive Jim Farley made a case that the U.S. must begin building batteries for the coming wave of electric vehicles in order to avoid supply disruptions like the semiconductor shortage now shutting American auto factories.
What to do?
We expect that the EV/Hybrid production capacity will not be able to fully meet demand. Customers will be subjected to an increase in production lead times and delivery delays. It is very well possible that some of these issues will resonate in increased demand for regular models with combustion engines, in the coming months.
Markets are expecting a peak-consumer-spending when COVID-restrictions are lifted. In combination with production limitations due to current chip shortages, the right position to be in is to have some stock available. That is exactly what we are doing at Network4Cars now; we will keep investing in our stock positions, with a variety of brands and models.
It feels counter-intuitive, but despite the severe economic impact of the COVID-lockdowns measures; now seems to be the time to invest in stock. Without available cars for sale, the economic bounce back from the COVID-lockdowns will be even tougher for many car retailers.
Feel free to browse through our available cars on our website. Make sure to check our weekly offers or subscribe to the newsletter if you don't receive these offers yet.
Curious how we work?
Learn more about our step by step order process
Make sure you don't miss our stock updates!
Sign up for our weekly update including NEW STOCK, SPECIAL DEALS and more…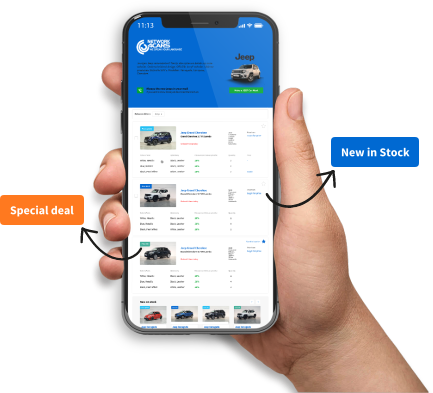 By signing up you grant permission to use your data to keep you informed of news and offers from Network4Cars