Step 1
Orientation
Our current stock (owned by us and stored in our compounds) is available to view on our website.
Sign up for our weekly Car Alert emails and receive the latest stock and price updates.
Step 2
In contact with our salesteam
Leave a message or give us a call. A trader, speaking your language and understanding your business, will contact you. You can discuss topics such as car specifications and documents, delivery time, transport, or contract conditions.
Step 3
Making the deal
The trader will go through all the details of the car you are interested in. Once you have agreed on the contract conditions and price, we will create your sales order.
Step 4
Confirming the order
Our Support department will send you the sales order document via email. After you have reviewed this, you can either sign this digitally via our online app Adobe Sign, or print, sign and scan it, and send it back to us.
Step 5
Updates and questions
You might have questions about the delivery time, delivery address, or documents. Log in to your account where you find all the up-to-date information. Want to speak to someone in person? Give us a call!
Step 6
Payment
Before we plan the delivery of your car, you will receive the invoice.
Step 7
Shipping of car and document
After we received your payment, delivery will be arranged to the address given on your order. We will collect the documents and send these to you by courier as soon as possible.
Step 8
Receiving the car
Once our transport company has delivered the car at your address, you need to inspect the car thoroughly and sign the delivery document (CMR).
Thank you!
We appreciate you doing business with us and we hope to be able to help you again soon!
Make sure you don't miss our stock updates!
Sign up for our weekly update including NEW STOCK, SPECIAL DEALS and more…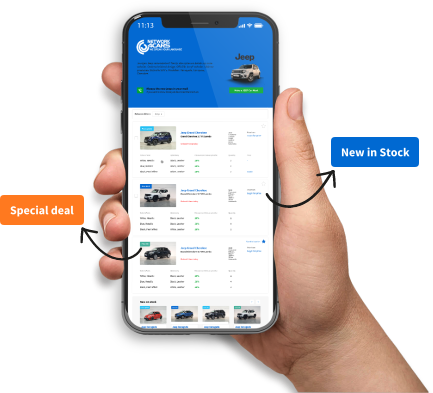 By signing up you grant permission to use your data to keep you informed of news and offers from Network4Cars