Old times revived: A new era for the automotive industry
The recent years have been turbulent times for the automotive industry. From global pandemics to persistent shortages in raw materials, the sector has faced numerous challenges. But now, with international production of new cars appearing to be back on track, we can be cautiously optimistic about what the future holds for car companies. It seems that old times are being revived.
Back to availability and stock
One of the most exciting developments for car companies and customers is the increasing availability of new cars. Brand dealers are slowly working through their backorders, and inventories are increasing again. This is good news for those looking for their dream car. It also means that car companies are once again able to deliver from stock, something we haven't seen in a long time.
The return to a level playing field between brand dealers and brand-independent car companies is also a promising sign. More choices for the consumer and healthy competition among car companies, which ultimately can lead to better deals and service for car buyers.
The rise of electric cars
A notable shift in the automotive industry is the rise of electric cars. While this technology holds promise for a more sustainable future, the market for electric vehicles is still strongly price- and subsidy-driven. Price fluctuations, uncertainty in the energy market, and declining subsidy programs make it challenging for many consumers to make the switch to electric.
For entrepreneurs, it is often not justifiable to buy or keep a large stock of electric cars, given the uncertainties in this market. Consumer demand is currently mainly focused on affordable petrol and hybrid cars. Business lease drivers, on the other hand, are willing to take the step. For this group, there are no residual value risks, and the high purchase price also plays no role.
Back to continuity and diversity
In these dynamic times, Network4Cars has focused on ensuring the availability of vehicles at reasonable prices. We haven't always been able to offer the diversity our customers have come to expect. But times are changing, and now that brand dealers are facing increasing stocks, it's a good time for Network4Cars to rebuild a broad inventory with continuity.
To optimize our inventory to meet your needs, we value your local market knowledge. We want to know what your customers want, which brands and models interest them, so we can match our purchasing strategy to your demand and strengthen our partnership.
Working the market together
Our traders are ready to keep you informed about developments in our stock and to offer you the right deals. Working the market together is our goal; will you join us?
Specify your brand and model preferences here.

Curious how we work?
Learn more about our step by step order process
Make sure you don't miss our stock updates!
Sign up for our weekly update including NEW STOCK, SPECIAL DEALS and more…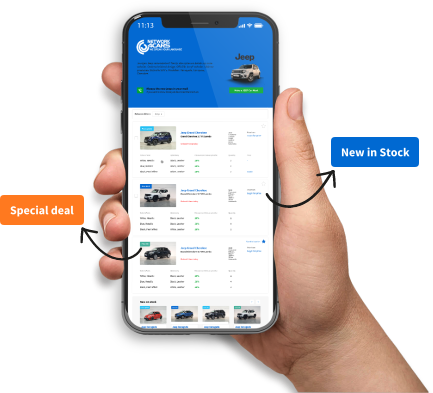 By signing up you grant permission to use your data to keep you informed of news and offers from Network4Cars