Network4Cars voldoet aan AVG regelgeving
Per 21 mei 2018 heeft Network4Cars alle vereiste stappen doorlopen om te voldoen aan de meest recente EU-regelgeving met betrekking tot databescherming.
De Algemene Verordening Gegevensbescherming (AVG) is een Europese verordening met betrekking tot databescherming en privacy voor alle individuele burgers van de Europese Unie (EU) en de Europese Economische Ruimte (EER). Deze verordening regelt ook de overdracht van persoonsgegevens naar gebieden buiten de EU en EER. De AVG is met name erop gericht om personen zeggenschap te geven over hun persoonsgegevens en om de regelgeving voor internationale ondernemingen te vereenvoudigen door de regels binnen de hele Europese Unie te standaardiseren.

"Wij zijn er trots op dat wij de interne procedures hebben afgerond om te voldoen aan de AVG. Behalve aan interne procedures en dataverwerking werkt Network4Cars met verschillende externe partners om gegevens van klanten op te slaan dan wel te verwerken. Om te waarborgen dat klantgegevens worden verwerkt volgens de AVG-regels hebben alle partners van Network4Cars die klantgegevens voor Network4Cars opslaan en/of verwerken een verklaring omtrent gegevensopslag en -verwerking ondertekend om te voldoen aan de AVG-vereisten."
Curious how we work?
Learn more about our step by step order process
---
Also interesting for you
10-7-2019
In a little less than two months from now, a new phase will start regarding the transition from NEDC to WLTP regulations. The team of Network4Cars wants its customers and associates to be fully prepared for this change.
04-11-2019
This table shows the directives and regulations, and which component type approval will expire on the date given in the column "expiry of type approval".
21-5-2018
As of 21 May 2018 Network4Cars had finalized all the required steps to comply with the latest EU regulations related to data protection.
Make sure you don't miss our stock updates!
Sign up for our weekly update including NEW STOCK, SPECIAL DEALS and more…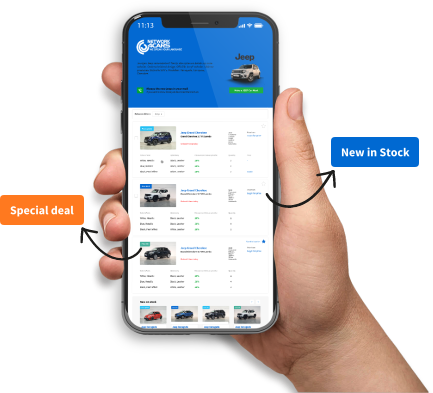 By signing up you grant permission to use your data to keep you informed of news and offers from Network4Cars