Frequently asked questions about "Website & Portal"
Where can I find the cars you have on stock?
All our stock cars can be found on our website. Prices are only available when you are logged in.
Can I receive your offers on a regular basis by e-mail?
Yes, of course. Please subscribe to our newsletter so you never miss out on any of our new stock, highlighted cars, and price alerts.
I am looking for a specific car (make or model), but I cannot find it on your website. Can I request this car anyway?
In the case of a large volume, we are able to handle your request. Please contact your sales representative to discuss this.
Do you also offer used cars?
Yes. On the stock overview page you can select the "Used Cars" filter to see our collection of all used cars in stock.
I forgot my password for the service portal, what do I do?
Click on the "Forgotten your password" button on the
login
page.
Already an account?
Request your personal account to access vehicle pricing, track delivery status and more
Make sure you don't miss our stock updates!
Sign up for our weekly update including NEW STOCK, SPECIAL DEALS and more…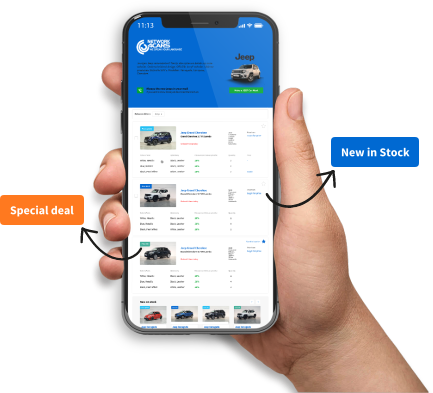 By signing up you grant permission to use your data to keep you informed of news and offers from Network4Cars