Too much stock and not the right mix?
In the turbulent world of car trading, the availability of makes and models has always been a crucial factor. However, in recent years, we have observed a striking phenomenon: limited availability of certain makes and models, while others have been abundant. This has led to a challenge many car companies have faced: too much inventory and not the right mix to meet market demand.
The dilemma of too much stock
Some car brands, models, and versions were rare and difficult to obtain. This resulted in situations where car companies were forced to purchase other cars, even if they might not be a perfect fit for their customer target or market demand. The result? An surplus of cars that may not always be easy to sell. This surplus stock can become a heavy burden with financial consequences and space issues.
How to optimize your stock?
At Network4Cars, we understand the challenges car companies face when it comes to inventory management. With more than 23 years of experience in the international car trade, we have a deep understanding of the market and can help you optimize your inventory.
Create liquidity.
By offering your excess stock to us, you can generate liquidity. This means you have quick access to funds to invest in new inventory or other business needs.

Optimize your stock.
We understand which makes and models are currently in demand in the marketplace. By working with Network4Cars, you can ensure that your stock matches current customers demand.

Maximize sales opportunities.
With the right mix of cars in your inventory, you increase your chances of successful sales. Customers can find what they are looking for faster, leading to higher sales figures.
How does it work?
Specify which stock cars you want to offer to us. Our purchasing team will contact you to discuss the details and make an offer. Also, check our availability of new cars, and there may be good stock for you. Together, we build a profitable future for your car business.
Curious how we work?
Learn more about our step by step order process
Make sure you don't miss our stock updates!
Sign up for our weekly update including NEW STOCK, SPECIAL DEALS and more…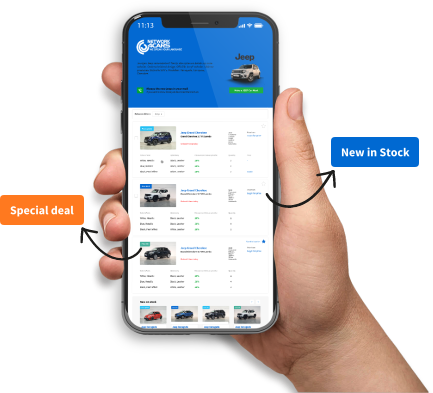 By signing up you grant permission to use your data to keep you informed of news and offers from Network4Cars