WLTP wetgeving per september 2019
Per 1 september 2019 is stap 3 van de WLTP afgerond. Dit betekent dat een groot aantal typegoedkeuringen komt te vervallen. Met andere woorden: auto's met deze typegoedkeuringen moeten voor 1 september 2019 zijn geregistreerd. Zodat u weet wat u kunt verwachten en wat u moet doen, heeft ons Customer Support Team een kort overzicht opgesteld.
Hoe kunnen wij helpen?
Om dit proces zo soepel mogelijk te laten verlopen wil Network4Cars u helpen bij deze overgang. Dit betekent dat wij u proactief zullen informeren als u actie moet ondernemen voor de auto's die u onlangs bij ons heeft gekocht. Hiervoor sturen wij u een e-mail met de VIN-nummers van alle auto's die wij aan u hebben verkocht en waarvan het typegoedkeuringsnummer vervalt, en die niet binnen Europa zijn geregistreerd. Het enige dat u hoeft te doen is deze voertuigen vóór 1 september registreren. Controleer ook nog eens de rest van uw voorraad die u elders heeft gekocht. Als u twijfelt over de status van uw andere voorraad, geven wij u graag extra informatie, ook als het voertuigen betreft die u niet bij ons heeft gekocht.
Het team van Network4Cars heeft Nicole benoemd als onze WLTP-specialist en specialist klantenservice. Zij staat voor u klaar om u te helpen met alle vragen die u heeft over dit onderwerp.
Belastingtechnische gevolgen
Fabrikanten blijven verplicht zowel de WLTP CO2-waarde als de herberekende NEDC CO2-waarde te vermelden op het Certificaat van Overeenstemming (CvO). In sommige landen van onze klanten wordt het belastingtarief berekend op basis van de gemiddelde CO2-uitstoot van de auto. Volgens de regels omtrent de WLTP kunnen de diverse belastinginstanties per land zelf bepalen tot wanneer de NEDC CO2-waarde wordt gehanteerd als basis voor het belastingtarief op een voertuig. Wij adviseren u daarom om dit na te vragen bij uw lokale belastinginstantie zodat u niet voor verrassingen komt te staan.
Vergeet vooral niet dat u er zelf verantwoordelijk voor bent om uw ongeregistreerde voorraad op tijd te registreren.
Dit artikel is bedoeld om u te informeren over de aanstaande veranderingen, zodat u zelf de nodige stappen kunt ondernemen.
Curious how we work?
Learn more about our step by step order process
---
Also interesting for you
10-7-2019
In a little less than two months from now, a new phase will start regarding the transition from NEDC to WLTP regulations. The team of Network4Cars wants its customers and associates to be fully prepared for this change.
21-5-2018
As of 21 May 2018 Network4Cars had finalized all the required steps to comply with the latest EU regulations related to data protection.
04-11-2019
This table shows the directives and regulations, and which component type approval will expire on the date given in the column "expiry of type approval".
Make sure you don't miss our stock updates!
Sign up for our weekly update including NEW STOCK, SPECIAL DEALS and more…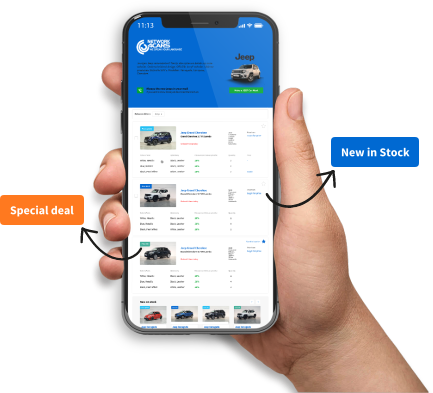 By signing up you grant permission to use your data to keep you informed of news and offers from Network4Cars