Network4Cars ist GDPR-konform
Zum 21. Mai 2018 hat Network4Cars alle erforderlichen Schritte zur Einhaltung der aktuellen EU-Vorschriften zum Datenschutz umgesetzt.
Die Datenschutz-Grundverordnung (DSGVO) ist eine Verordnung unter europäischem Recht, die für alle Bürger der Europäischen Union (EU) sowie des Europäischen Wirtschaftsraums (EWR) gilt. Sie regelt auch die Übermittlung personenbezogener Daten in Regionen außerhalb der EU und des EWR. Hauptziel der DSGVO ist es, dem Einzelnen Kontrolle über seine personenbezogenen Daten zu geben und durch die Vereinheitlichung der Regeln innerhalb der EU das regulatorische Umfeld für die internationale Geschäftswelt zu vereinfachen.

"Mit Stolz können wir berichten, dass wir die internen Verfahren zur Erfüllung der gesetzlichen Anforderungen der DSGVO abgeschlossen haben. Abgesehen von unseren internen Verfahren und der Datenverarbeitung im eigenen Haus arbeitet Network4Cars auch mit verschiedenen externen Partnern zusammen, von denen Kundendaten entweder gespeichert bzw. verarbeitet werden. Um sicherzustellen, dass die Verarbeitung der Kundendaten in Übereinstimmung mit der DSGVO erfolgt, haben alle Partner von Network4cars, die Kundendaten für Network4Cars speichern bzw. verarbeiten, eine Erklärung hinsichtlich der Speicherung und Verarbeitung der Daten unterschrieben, mit der sie sich zur Einhaltung der DSGVO-Vorschriften verpflichten.
Curious how we work?
Learn more about our step by step order process
---
Also interesting for you
21-5-2018
As of 21 May 2018 Network4Cars had finalized all the required steps to comply with the latest EU regulations related to data protection.
04-11-2019
This table shows the directives and regulations, and which component type approval will expire on the date given in the column "expiry of type approval".
10-7-2019
In a little less than two months from now, a new phase will start regarding the transition from NEDC to WLTP regulations. The team of Network4Cars wants its customers and associates to be fully prepared for this change.
Make sure you don't miss our stock updates!
Sign up for our weekly update including NEW STOCK, SPECIAL DEALS and more…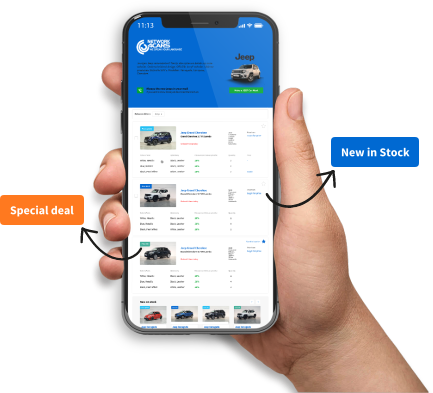 By signing up you grant permission to use your data to keep you informed of news and offers from Network4Cars