Le 1er septembre 2019 marquera la fin de l'étape 3 de la norme WLTP
Le 1er septembre 2019 marquera la fin de l'étape 3 de la norme WLTP. Cela signifie qu'un grand nombre d'homologations arriveront à expiration. En d'autres termes, les véhicules disposant de ces homologations doivent être immatriculés avant le 1er septembre 2019. L'équipe du support client a donc rédigé un bref résumé expliquant ce à quoi il faut s'attendre et, surtout, ce qu'il faut faire.
En quoi pouvons-nous vous aider ?
Pour faciliter ce processus, Network4cars fera son maximum pour vous aider dans cette transition. Nous vous indiquerons notamment si des mesures doivent être prises pour les véhicules que vous avez récemment achetés chez nous. Pour cela, nous vous enverrons un e-mail avec les numéros VIN de toutes les voitures que nous vous avons vendues dont le numéro d'homologation expire et qui ne sont pas immatriculées en Europe. Vous n'aurez plus qu'à faire immatriculer les véhicules avant le 1er septembre et à vérifier les véhicules que vous avez achetés ailleurs. Si vous avez un doute sur ces autres véhicules, nous nous ferons un plaisir de vous fournir des informations, même pour les véhicules que vous n'avez pas achetés chez nous.
L'équipe de Network4cars a désigné Nicole en tant que spécialiste de la norme WLTP et du support client. Si vous avez des questions, n'hésitez pas à la contacter.
Conséquences fiscales
Les constructeurs sont encore obligés de mentionner la valeur de CO2 WLTP et la valeur de CO2 NEDC recalculée sur le certificat de conformité (COC). Dans les pays de certains de nos clients, la fiscalité est calculée sur la moyenne des émissions de CO2 du véhicule. Les règles entourant la norme WLTP autorisent les administrations fiscales à décider jusqu'à quelle date la valeur de CO2 NEDC peut être utilisée pour déterminer la fiscalité d'un véhicule. L'UE a indiqué que l'administration fiscale de chaque pays pourrait en décider individuellement. Nous vous demandons donc de vérifier cette disposition auprès de votre administration fiscale locale pour ne pas être pris par surprise.
Gardez cependant à l'esprit qu'il relève de votre responsabilité d'immatriculer vos stocks non immatriculés en temps voulu.
Cet article a pour but de vous informer des changements à venir afin que vous puissiez agir en conséquence.
Curious how we work?
Learn more about our step by step order process
---
Also interesting for you
10-7-2019
In a little less than two months from now, a new phase will start regarding the transition from NEDC to WLTP regulations. The team of Network4Cars wants its customers and associates to be fully prepared for this change.
21-5-2018
As of 21 May 2018 Network4Cars had finalized all the required steps to comply with the latest EU regulations related to data protection.
04-11-2019
This table shows the directives and regulations, and which component type approval will expire on the date given in the column "expiry of type approval".
Make sure you don't miss our stock updates!
Sign up for our weekly update including NEW STOCK, SPECIAL DEALS and more…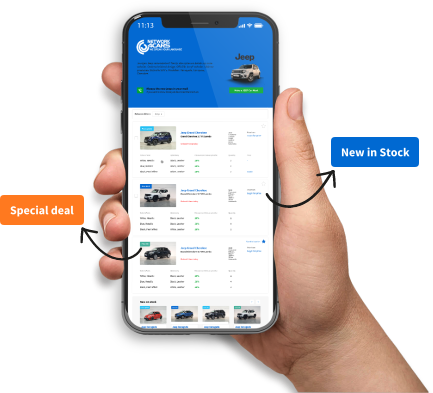 By signing up you grant permission to use your data to keep you informed of news and offers from Network4Cars