Expected automotive trends to look out for in 2022
As we welcomed 2022, it's time to have a look at what is expected to happen within the automotive industry this year.
Increase in production of electric cars
Given the big shift, from spark-ignited and compression-ignited engines to fully electrical ones, it is expected that the production of the latter will significantly increase. This comes also from the fact that the infrastructure of charging stations is improving, and the long-term environmental benefits cannot be omitted.
Fuel cell electric vehicles
There is a reason to believe that the fuel cell electric vehicles will breakthrough in 2022. The main benefits of fuell cell type are: that they recharge faster, the range is up to 5 times bigger than other electric vehicles and only emit water out of their tailpipes. Many manufacturers are investing in the development of fuel cell electric vehicles.
Increase in technology
Another 2022 outlook is related to a higher development in technology. It is expected that vehicles will become more and more connected and make use of new Artificial Intelligence capabilities. The use of real-time traffic data in combination with smart speed limits and smart traffic light systems will increase the efficiency public transport, but also in individual vehicles.
E-Commerce
It is forecasted that the way people buy cars will change too. Customers will be able to acquire vehicles at their convenience using their smartphones or computers, preview the cars online and choose the options that they desire without having to go to an actual dealership.
Autonomous Self-Driving Vehicles
More and more car companies have started to implement different levels of autonomous driving and this trend is expected to continue. There are still questions to be anwsered in terms of laws and ethics when a driver is not in full control and an accident happens. Nevertheless, the vehicles are expected to start doing more on their own and aid the drivers on their journey.
For more in depth articles, you can have a look at one of these:
https://linchpinseo.com/automotive-industry-trends/
https://kadence.com/automotive-trends-for-2022-summary-of-our-new-report/
https://www.pwc.com/gx/en/industries/automotive/assets/pwc-five-trends-transforming-the-automotive-industry.pdf
Curious how we work?
Learn more about our step by step order process
Make sure you don't miss our stock updates!
Sign up for our weekly update including NEW STOCK, SPECIAL DEALS and more…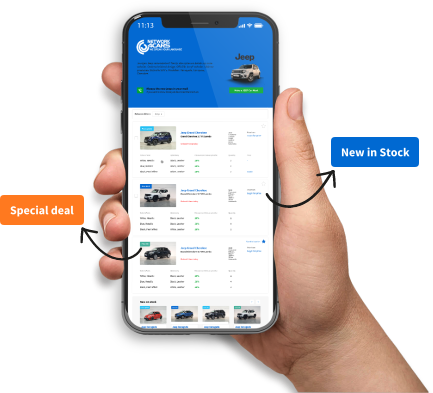 By signing up you grant permission to use your data to keep you informed of news and offers from Network4Cars