Frequently asked questions about "Purchase"
Is it possible to receive (genuine) pictures of the car before I sign my contract?
We aim to have genuine photos of our cars available online, but due to the dynamic nature of our business this is not always possible.
Is it possible to do large volume deals?
We are open to discussing deals regardless of the amount. Please contact your sales representative to discuss the possibilities.
Do you require a deposit for every purchase?
Depending on the purchase, a deposit can be required. Your sales representative will discuss this with you before sending the sales order.
Where do your cars come from?
We purchase most of our cars from EU countries, but also occasionally from outside the EU.
Can I trust your company?
Yes, you can. We have been in business for nearly 20 years. We have successfully delivered over 180,000 cars to our customers worldwide. We aim to have long-lasting relationships with our customers.
Can I visit your office?
Yes, of course. We are happy to see you at our main office in Nieuw-Vennep, the Netherlands. You can make an appointment with one of our sales representatives or management if you wish.
What are your payment conditions?
Our payment conditions state "payment before delivery of the car". After we have received the payment, delivery of the purchased cars will be arranged to the address specified in your sales order. As we own the stock, we strive to keep delivery times as short as possible after payment.
Can I request a specific car?
This depends on stock availability. Please contact one of our sales representatives to discuss the possibilities.
What does your stockmix look like?
We aim to have a wide variety of makes and models that suit market needs. Our sales representatives are able to tell you more about our current stock mix.
I have never purchased a car from you, but I would like to do so. Who should I contact?
Good to hear you would like to do business with us. Please contact us by phone, or leave a message on our website contact page. One of our sales representatives will call you back as soon as possible.
What can I contact my sales representative for?
If you are interested in purchasing a car, the best person to contact is your sales representative. They can provide you with a current list of cars in stock that may interest you. Please also contact your sales representative also if you have questions regarding specifications, factory warranty, or changes to the sales order.
Is factory warranty included?
This depends on the purchased car, however, the vast majority of cars have a factory warranty included. Please contact your sales representative for further information on specific models.
What is the duration of the warranty on my purchased car?
This varies according to the make and model of the car. We also offer cars with an extended warranty. To be sure about the terms and conditions of warranties, including the period covered, please contact your sales representative.
Do you only sell B2B? Or can I buy a car as a private person?
No unfortunately not. We are specialist and only sell cars B2B.
Already an account?
Request your personal account to access vehicle pricing, track delivery status and more
Make sure you don't miss our stock updates!
Sign up for our weekly update including NEW STOCK, SPECIAL DEALS and more…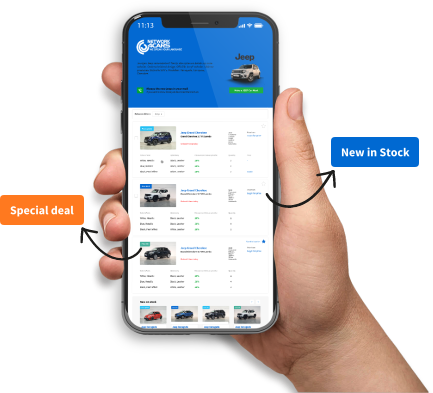 By signing up you grant permission to use your data to keep you informed of news and offers from Network4Cars