Network4Cars has a rich history in the international car trade
Network4Cars was founded in 2000. At first, the owners were only selling right-hand drive vehicles to the United Kingdom. In 2003 the company started selling left-hand drive vehicles to Germany, and soon after to other European countries.
In 2007 Network4Cars ended the broker role and started owning and delivering all cars from its own compounds. In 2011 the company relocated to a new and bigger facility in Nieuw-Vennep, near Amsterdam. Since 2015 Network4Cars has expanded and now has offices in several European countries.
In 2016 the company spread outside Europe and invested in digitalization and automation, making buying and selling cars easier.
Based on the developments in the market today, Network4Cars buys and sells new, nearly new, and used cars. The benefit for our customers is presenting the right offerings, at competitive prices, and with high reliability.

2000
Founded
Network4Cars starts exporting RHD cars to the UK
2003
Expand to Germany
Sales of LHD cars and expansion of activities to Germany
2004
The rest of Europe
Expanding activities to the whole of Europe
2007
Stock holding!
No more brokerage! Network4Cars owns and delivers all cars from its own compounds
2011
New Office
Growing further Network4Cars moves to a new office and compound location in Nieuw-Vennep, close to Amsterdam
2015
More offices
Opening offices in several European countries
2016
Worldwide expansion
Expanding business to the whole world (USA, Mexico, Asia, Middle East, etc.)
2017
Additional services
Introducing new services for leasing companies
2019
New website
Launch of new company website and corporate identity
Make sure you don't miss our stock updates!
Sign up for our weekly update including NEW STOCK, SPECIAL DEALS and more…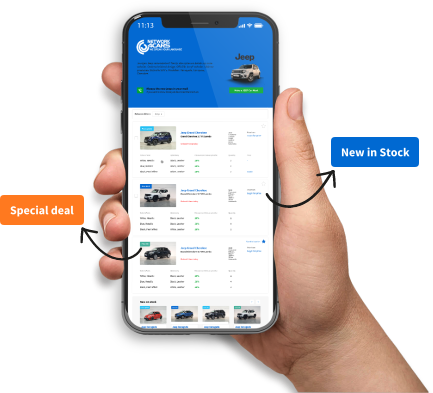 By signing up you grant permission to use your data to keep you informed of news and offers from Network4Cars